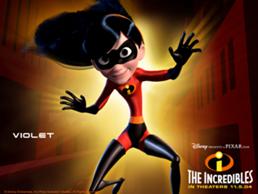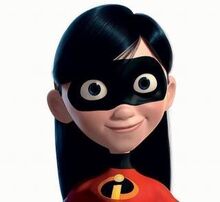 Violet Parr is the roleplay character of Sapphire12998.
Character Bio

Edit
Violet Parr is the introverted daughter of Bob and Helen Parr and one of the tritagonists (along with Dash Parr) from the Pixar animated film, The Incredibles. Called "Vi" by friends and family, she has the ability to produce force-fields and turn invisible. She has two brothers, Dash and Jack-Jack Parr.
Personality
Edit
Violet's character development constitutes a major side-story in the movie, despite the fact that Violet's role only grew during the second half of the film (some speculate that this is due to the extreme complexity involved in animating her long, flowing hair). At first, Violet is shy and timid, and, stuck at the cross-roads between girl and woman, Violet desperately wants to be like everyone else, to blend in with normal people and not to stand out. However, after she becomes older and more outgoing, she is proud of who she is. Violet loves her family and even though she constantly butts heads with Dash, she cares for him very much. She is concerned for the well being of her family, so she always tries very hard to help them.In her personal life, Violet enjoys listening to music and reading fashion magazines.
Physical Appearance
Edit
Violet has black hair and is 4'6 in height and weighs 90 pounds. Violet has blue-ish black hair, dark violet-blue eyes, she describes herself as having a gangly physique. At the beginning of the movie, her appearance gives off a moody vibe. She has an overgrown dark blue sweater, dark blue pants, and her hair covering an eye, along with one quarter of her other eye. However, after apologizing to her mother on the island, she wears the mask, showing her entire face. At the end of the film, she now wears brighter clothing, including a pink ribbon, a pink polo shirt, tan khakis and white shoes.
Ad blocker interference detected!
Wikia is a free-to-use site that makes money from advertising. We have a modified experience for viewers using ad blockers

Wikia is not accessible if you've made further modifications. Remove the custom ad blocker rule(s) and the page will load as expected.