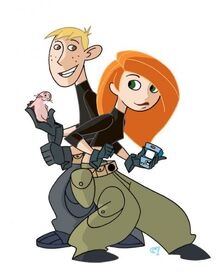 Ron Stoppable is the Roleplay character of Gusmanga
Description
Edit
Ronald "Ron" Stoppable is the male lead of the animated television series Kim Possible, voiced by actor Will Friedle. He is the lifelong best friend and faithful partner of the show's main character,Kim Possible (just as her name is a take on the word "impossible," his is a take on the word "unstoppable").
Ron is an only natural child from an observant Jewish family . He met Kim during their first day at preschool and they have been firm friends ever since. Ron's father eventually moves the family to Norway and then to the Moon.
In the TV movie A Sitch in Time, Ron is depicted as having been an articulate, observant child able to comprehend concepts too complex for the average child of his age, as having an imaginary friend named "Rufus", and as having a strong social conscience but also underdeveloped social skills which set him apart from other children. As a teenager, he has a pet naked mole rat named Rufus and has slept with a nightlight since the age of four.
Personality
Edit
Personality-wise, Ron is the polar opposite of Kim. Like Shego, he displays a lack of ambition and a propensity for sarcasm toward villains such as Drakken. He reacts differently from Kim in almost every situation, excels at things that she has difficulties with (and vice versa), and sees the world in a different way. He is probably also the most diverse character in the franchise, and is the character who has displayed the most contradictions/contrasts in terms of personality and capability throughout the franchise. He also tends to overreact to change, even when they're minor.
Ad blocker interference detected!
Wikia is a free-to-use site that makes money from advertising. We have a modified experience for viewers using ad blockers

Wikia is not accessible if you've made further modifications. Remove the custom ad blocker rule(s) and the page will load as expected.