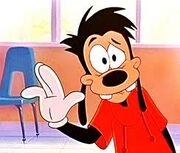 Max Goof is roleplayed by KeepCalmAndStandOut.
Max, being the son of Goofy, often has troubles as a day-to-day adolescent. His teeth, his laugh, and even occasional clumsiness are all attributes he sometimes dislikes about himself. However, as much as his father (and similarities to the former) tends to embarrass him, Max is very caring to his family and friends. He's a charming, enthusiastic, hardworking individual, and will stop at nothing to achieve his goals. 
Max can sometimes be cunning, or a bit of a know-it-all, but for the most part he grows out of such traits. He is a little stubborn at times when his patience wears thin. 
Appearance
Edit
Max is a tall human-like dog with black hair and large front teeth (much like Goofy, his father). In most of his appearances he wears some kind of red top (usually a hoodie or t-shirt), with blue pants and dark shoes. As a younger child (such as in Goof Troop), Max instead wears tracksuit trousers with yellow stripes, with yellow and green sneakers. 
Ad blocker interference detected!
Wikia is a free-to-use site that makes money from advertising. We have a modified experience for viewers using ad blockers

Wikia is not accessible if you've made further modifications. Remove the custom ad blocker rule(s) and the page will load as expected.