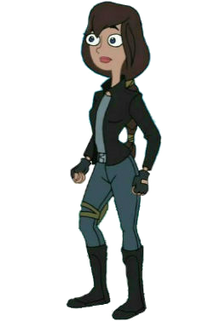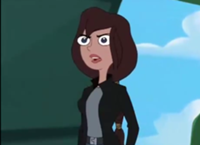 Lyla Lolliberry is a Roleplay Character of
Dlrpirl75
. 
Personality
Edit
Despite being blatantly loquacious and somewhat ditzy, Lyla has been shown to be a clever, strategic and formidable agent. She possesses well-developed combat skills, and has a very mannerly yet bold and fun-loving personality. She teaches Perry that cooperation is very important.
Physical Appearance
Edit
Lyla appears to be in her mid or early twenties. She has long brown hair tied up in a ponytail, and dark blue eyes. Her clothing consists of a thin black jacket with a collar over a gray sleeveless t-shirt, skinny jeans under a thick waist belt, long black knee-high boots, and black fingerless gloves. She also wears a belt around her right thigh that holds a communicator.
Ad blocker interference detected!
Wikia is a free-to-use site that makes money from advertising. We have a modified experience for viewers using ad blockers

Wikia is not accessible if you've made further modifications. Remove the custom ad blocker rule(s) and the page will load as expected.