Princess Jasmine 
is the character is
Hungergame0616
.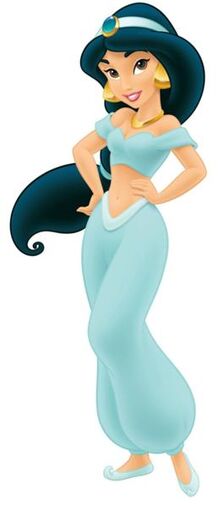 Character Bio
Edit
Princess Jasmine is the deuteragonist of Disney's 1992 animated film Aladdin, its two sequels, and the animate television series. She was voiced by Linda Larkin in all the films and series. Her singing voice was performed by Lea Salonga in the first movie and by Liz Callaway in the sequels. She is from the Middle Eastern kingdom of Agrabah. Jasmine is the sixth Disney Princess.
Physical Appearance
Edit
Jasmine is a very beautiful young woman with lustrous black hair, big brown eyes, and a distinct hourglass figure. She normally wears her black hair in a ponytail, held together by two blue bands. She normally wears a light blue tube top with loops for her arms, allowing her figure to be shown, and matching pants along with blue shoes. For formal occasions, she has a purple outfit that covers more of her skin and a hair accessory.
Personality
Edit
Jasmine is free-spirited, and in many ways resembles the "rebellious princess" archetype. She is headstrong, and longs for the freedom that other girls have. This eventually leads to Jasmine running away, but she gets into trouble as she is initially naive regarding the world outside of the palace. Jasmine can be very willful; she refuses all of the suitors that her father chooses, preferring to wed for love rather than for wealth. Jasmine can also be kind and caring, and is considered to be clever and intelligent. She shows a love for adventure, and often accompanies
Aladdin
on his journeys.