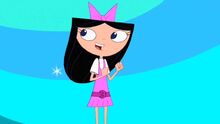 Isabella Garcia-Shapiro is the Roleplay character of Izzy&phinfan101
Personality

Edit
Isabella is cheerful, fearless, quick-thinking, sweet, beautiful, optimistic, caring, very helpful, and easy to get along with. She is very eager to help with any of Phineas and Ferb's Big Ideas. When she participates with Phineas and Ferb in their endeavors, it's either for the fun of it, her aspiration to earn accomplishment patches, or simply to be with Phineas. She comes over every day just to see him, as seen in the song "Watcha doin?"("Roller Coaster:The Musical"). She is mostly optimistic, but she also cares for, and worries about people at certain times. Isabella is sympathetic and would aid people who are in need of it. T

his was demonstrated when she showed concern for Candace, who was too nervous to call Jeremy and ask him out ("Out to Launch") and when she snapped Phineas and Ferb out of their hypnotic dullness.
Appearance
Edit
Isabella is a very slender child with long, black hair with thin blue hi-lights and a rounded bottom, fair skin, and oval dark blue eyes. As a baby, she wore a pink t-shirt and had her hair tied up in a straight bun.  She wears a fuchsia-pink sleeveless dress that stops above her knees, revealing that she has long legs, like Ferb, with a white short-sleeve T-shirt underneath and a deep purple belt, white socks and pink shoes with white laces. The pink bow in her hair is thought to be her trademark, and she has only been seen without it on a few occasions, but not without it on her head.  Her Fireside Girls uniform is the same format as her normal clothing, but with an orange sleeveless top, a white shirt exactly like her normal outfit, and a short brown skirt. She wears an orange beret with a red bow in the front. Her belt is red, and she has an accomplishment sash with it. She has white socks and red shoes with this outfit. Her pajamas are light purple with darker purple stripes, and she wears a purple bow.
Ad blocker interference detected!
Wikia is a free-to-use site that makes money from advertising. We have a modified experience for viewers using ad blockers

Wikia is not accessible if you've made further modifications. Remove the custom ad blocker rule(s) and the page will load as expected.