Clopin Trouillefou is the second roleplay character of ToyStoryFan123.
Role in the Film
Edit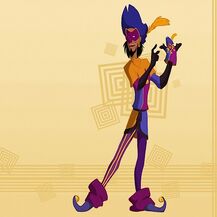 Clopin Trouillefou appears in The Hunchback of Notre Dame as the narrator.
He tells several small children the tale of Quasimodo's origin in his caravan along with his little puppet. He then asks the question that, out of Frollo and Quasimodo, "Who is the monster and who is the man?"
He later appears at the Feast of Fools singing Topsy Turvy and trying to get Quasimodo to come out of hiding. He and Esmeralda encourage Quasimodo (unaware that he is the real Hunchback) to audition to be the King of Fools as the ugliest person in Paris. After he is revealed Clopin celebrates him and the croud rejoice him, until a few guards humiliate him.
After that, he appears as Captain Phoebus and Quasimodo enter the Court of Miracles and he and the gypsies sing a song, "The Court of Miracles", and about to hang the two. After Frollo breaks into the Court of Miracles he arrests all the gypsies.
When Quasimodo rescues Esmeralda; Phoebus, Clopin, the rest of the gypsies and the townspeople escape their clutches and fight back against the guards.
Upon the death of Frollo the town rejoice and Clopin sings a reprise of The Bells of Notre Dame, with the riddle, "What makes a monster and what makes a man?" giving the indication that Quasimodo is not a monster and Frollo is not a man.
(Full Article: Clopin)
Ad blocker interference detected!
Wikia is a free-to-use site that makes money from advertising. We have a modified experience for viewers using ad blockers

Wikia is not accessible if you've made further modifications. Remove the custom ad blocker rule(s) and the page will load as expected.